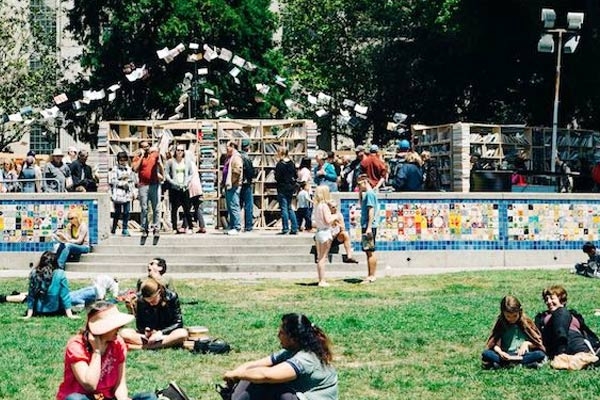 (Image source from: LiteraryHub)
This year's Bay Area Book Festival, held on May 4 and 5, is set to spotlight award-winning Indian and Indian American thinkers, artists, chefs, and novelists.
The two-day literary celebration will be held annually in Berkeley.
The festival features nearly 500 speakers and exhibitors giving book lovers a chance to meet acclaimed authors, along with an outdoor fair with hundreds of literary exhibitors.
The event will witness speaker Anand Giridharadas, author of Winners Take All, as a keynote speaker with former United States Secretary of Labor Robert Reich, about economic inequality at 7:30 p.m., May 4, at the Berkeley Community Theater.
A former McKinsey consultant-turned New York Times columnist, Giridharadas is now a bestselling author.
On Sunday afternoon, May 5, chef Nik Sharma, creator of the award-winning food blog A Brown Table, will present his first cookbook, Season, which features recipes inspired by his travels from culinary India "by way of the American South to California." In his debut cookbook, Sharma weaves a story that is deeply personal - that of a gay immigrant reconciling his past and present. With stunning photography, he shares a treasury of ingredients, techniques, and flavors that combine in a way that's both familiar and completely unexpected.
Other South Asian speakers include Indian American graphic novelist Nidhi Chanani, Indian American novelist Devi Laskar, Indian American journalist and virtual reality innovator Lakshmi Sarah, and Sikh-American civil and political rights lawyer and capital investor Arjun Sethi, with a book on hate crimes.
The Festival's other featured authors will come from every corner of the literary world - from Young Adult and memoir to nonfiction and cooking. They range from Ann Beattie to New York Times ethicist columnist Kwame Anthony Appiah.
Festival founder and director Cherilyn Parsons have been close to India and Indian writers for some time. "I take part in the Jaipur Literature Festival every year, which has been a model for the Bay Area Book Festival in many ways. I've never seen more book-loving people than Indians! I'm delighted to feature writers who come from this part of the world."
There is a ticket giveaway to the festival keynote with Anand Giridharadas and Robert Reich! The first five people to email This email address is being protected from spambots. You need JavaScript enabled to view it. with "India Currents ticket giveaway" will be granted a pair of free tickets to the event. Be sure to include your name. Your tickets will be delivered to you via email.
Guaranteed seating in indoor programs can be accessed through priority tickets at $10/session. Attendees may also purchase a $15 wristband for general admission for access to all indoor sessions all weekend on a space-available basis.
Event Timings
11 a.m. – 5:00 p.m., Saturday, May 4 – Sunday, May 5
Location
Downtown Berkeley
Martin Luther King Jr. Civic Center Park
-Sowmya Sangam